Comparison of Sonograms of Allardís and Tinkling Ground Crickets
<![if !supportEmptyParas]> <![endif]>
<![if !supportEmptyParas]> <![endif]>
The fundamental frequency is different for the two ground crickets.
Also, the structures of the fundamentals in the sonograms are slightly different.
Sounds collected in the field using a Sony TCD-D10 Pro II RDAT recorder,
Sennheiser ME 62 omni mic, and a 76cm Roche` parabola.
Sonograms were created using CoolEdit 2000 with Blackmann-Harris windowing,
256 bands of resolution and logarithmic energy plot with a range of 120dB.
<![if !supportEmptyParas]> <![endif]>
<![if !supportEmptyParas]> <![endif]>
<![if !vml]>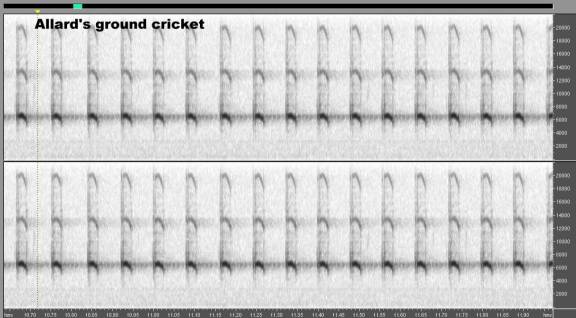 <![endif]>
<![if !supportEmptyParas]> <![endif]>
<![if !supportEmptyParas]> <![endif]>
<![if !vml]>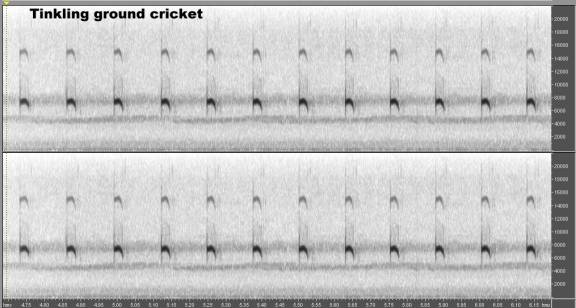 <![endif]>
<![if !supportEmptyParas]> <![endif]>
<![if !supportEmptyParas]> <![endif]>
<![if !supportEmptyParas]> <![endif]>
"℗2000 Wil Hershberger